When people talk about Wi-Fi 6, they often compare it with Wi-Fi 5 (802.11ac), discussing the higher data rates and blazing speed that Wi-Fi 6 (802.11ax) offers. Yes, theoretically, Wi-Fi 6 will achieve much higher connection rates (up to 9.6Gbps). However, Wi-Fi 6 promises to deliver much more than increased speeds.
Let's take a look at the evolution of Wi-Fi technology to appreciate the revolutionary leap that Wi-Fi 6 represents. Below is a "Wi-Fi Evolution Timeline" chart showing the progression of Wi-Fi from its inception in 2003 up to the introduction of Wi-Fi 6 in 2019.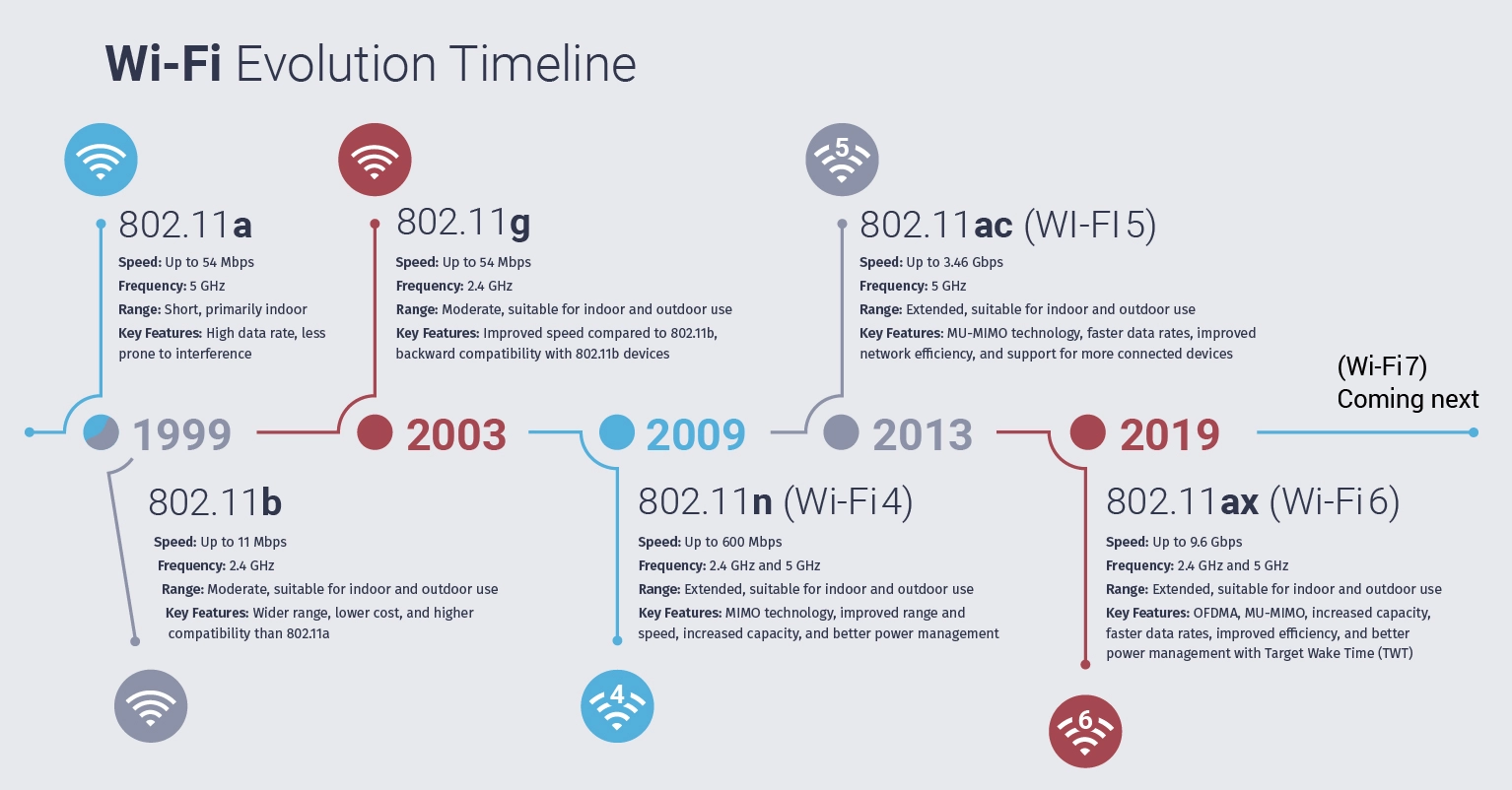 As you can see, Wi-Fi technology has come a long way, and Wi-Fi 6 is the latest step in this ongoing evolution. This blog post will detail the key advantages associated with Wi-Fi 6 networks, while also providing a comparison: Wi-Fi 5 vs Wi-Fi 6.
Greater Network Capacity and Efficiency in Dense Environments
One key difference between Wi-Fi 5 and Wi-Fi 6 is the improved network capacity and efficiency in dense environments. This is particularly important for tackling network congestion, a common issue in crowded areas. Features such as MU-MIMO, OFDMA/802.11ax MU-MIMO, and Basic Service Sets, like Spatial Frequency Re-use, contribute to this improvement.
To better visualize the differences, let's compare Wi-Fi 5 and Wi-Fi 6 side-by-side in the table below:
| Features | Wi-Fi 5 (805.11ac) | Wi-Fi 6 (802.11ax) |
| --- | --- | --- |
| Release Year | 2013 | 2019 |
| Frequency Bands | 5 GHz | 2.4 GHz and 5 GHz |
| Max Theoretical Data Rate | Up to 3.46 Gbps | Up to 9.6 Gbps |
| Spatial Streams | Up to 8 | Up to 8 |
| Channel Bandwidth | 20 MHz, 40 MHz, 80 MHz, 160 MHz | 20 MHz, 40 MHz, 80 MHz, 160 MHz |
| Modulation Scheme | 256-QAM | 1024-QAM |
| MIMO | SU-MIMO (Single User MIMO) | MU-MIMO (Multi-User MIMO) |
| Security | WPA 2 | WPA 3 |
| OFDMA | No | Yes |
| Target Wake Time (TWT) | No | Yes |
As shown in the table, Wi-Fi 6:
has a higher maximum theoretical data rate
Offers both 2.4 GHz and 5 GHz frequency bands
Includes advanced features like OFDMA and TWT
Uses Multi-User MIMO technology
All of these contribute to its superior performance and efficiency.
Key Features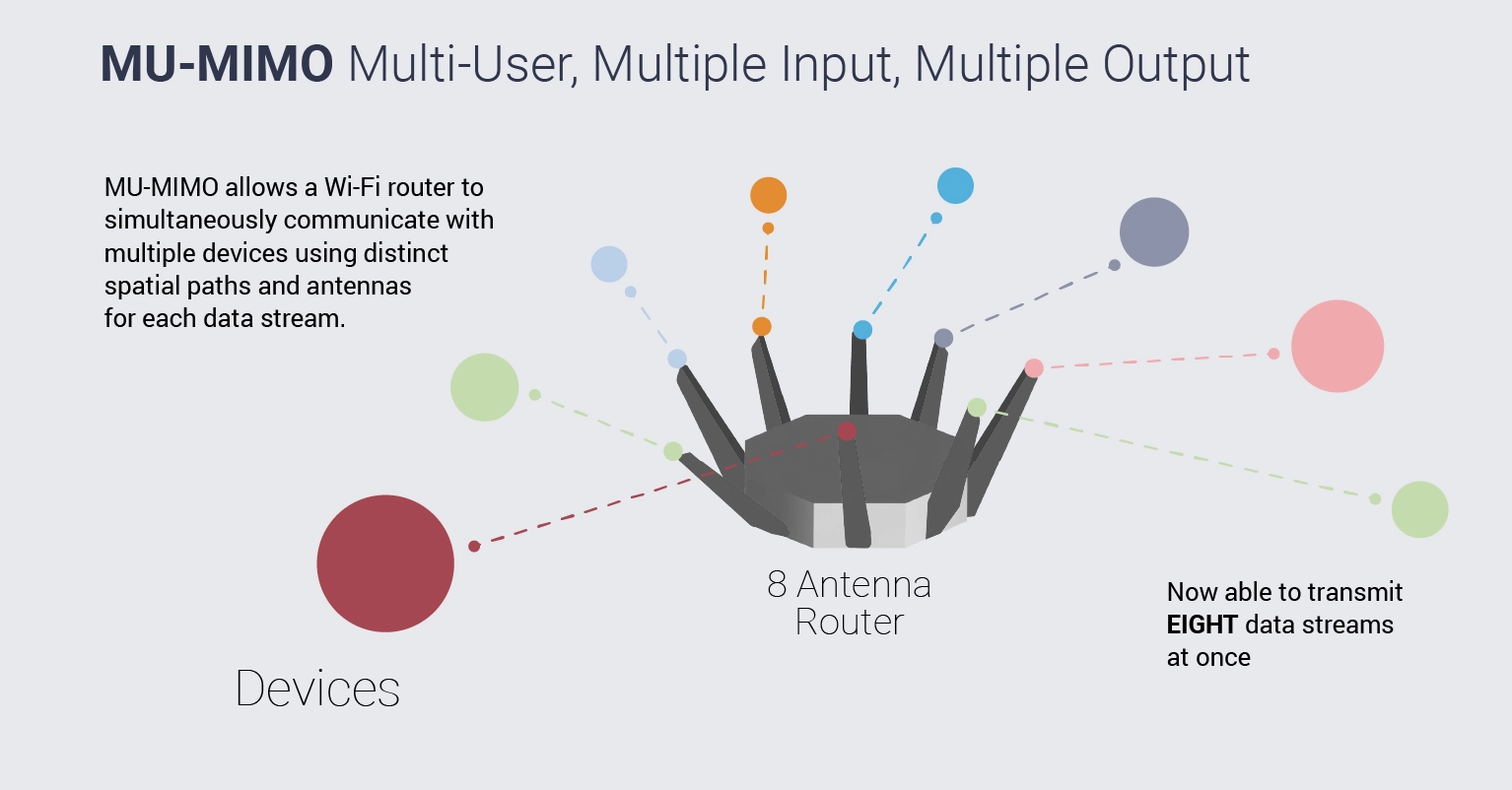 MU-MIMO: Wi-Fi 6 has expanded MU-MIMO to allow for routers to talk with up to eight devices simultaneously.
OFDMA: One transmission can provide data to multiple devices at once. This is accomplished by slicing the few big existing Wi-Fi channels into much smaller ones called Resource Units.
1024-QAM: This allows for more data to be packed into each transmission for greater throughput and improving spectral efficiency.
160MHz Channel Bandwidth combined with MU-OFDMA: This improves efficiency by reducing packet airtime and enabling packet transfer of different sizes from multiple clients simultaneously.
Basic Service Sets such as Spatial Frequency Re-use: This allows for utilizing channels in a more coordinated and efficient manner.
Additional 6GHz Spectrum for Wi-Fi 6E networks: Wi-Fi 6E introduces an additional 6GHz spectrum, making available an additional 1.2GHz of clear spectrum in certain regions. This feature further sets Wi-Fi 6E apart from Wi-Fi 6 and Wi-Fi 5.
Lower Power Consumption
With Target Wake Times (TWT) and efficient use of bandwidth, Wi-Fi 6 consumes less power compared to Wi-Fi 5, making it an excellent choice for IoT devices and those looking for power conservation.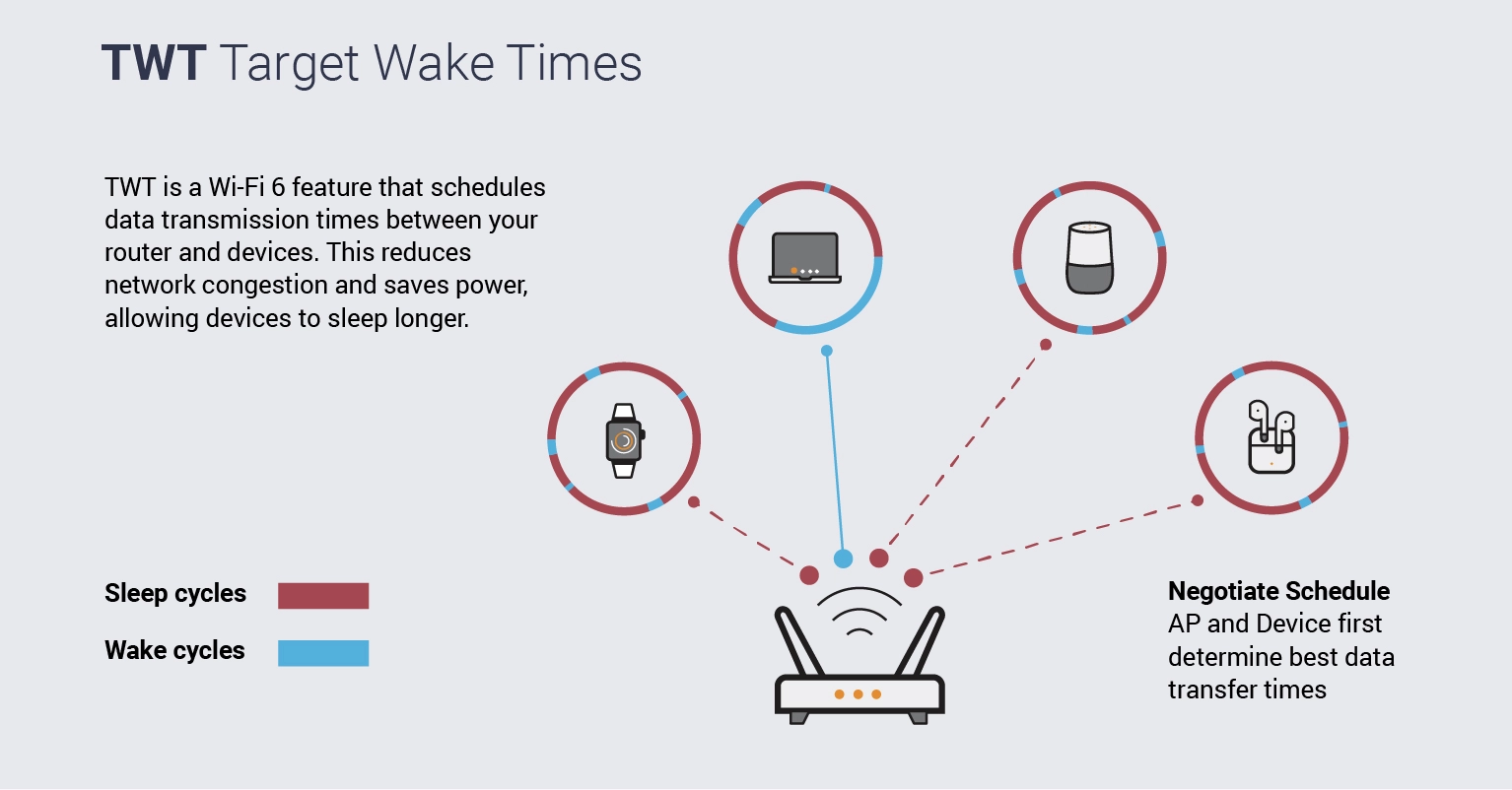 Target Wake Times (TWT): Allow for scheduled check-in times to extend battery life for power constrained IoT devices.
Managed and efficient use of bandwidth: This will conserve power. This is especially crucial if your home or business has many connected devices. A Wi-Fi 6 network can handle the increased demand much more efficiently than a Wi-Fi 5 network, making it a likely "yes" if you're wondering, "Do I need Wi-Fi 6?"
Interference
Wi-Fi 6 reduces interference through:
Faster throughput and getting on/off the air faster, which decreases the signal traffic and collisions.
Improved bandwidth management, which reduces the RF noise.
Latency
Another difference between Wi-Fi 5 and Wi-Fi 6 is latency. Wi-Fi 6 offers reduced latency due to:
Faster RF data rates, which yield faster throughput.
Efficient management of bandwidth in crowded areas (OFDMA...allowing the AP to talk to multiple STAs simultaneously).
Improved interference performance, which reduces latency.
Improved Security with WPA3
Wi-Fi 6 also features improved security with the implementation of WPA3, offering benefits over Wi-Fi 5's security protocols. It introduces Simultaneous Authentication of Equals (SAE) and Wi-Fi Enhanced Open Mode – Traffic encryption for open networks, providing a more secure internet connection.
Our Wi-Fi 6 Modules
While we're on the topic of Wi-Fi 6, check out our NEW Wi-Fi 6 modules
NEW CMP9611 and CMP9612
The CMP9611 offers Wi-Fi 6 + BT5.2, while the CMP9612 is a tri-mode radio supporting Wi-Fi 6 + BT5.2 + 802.15.4. These multi-protocol modules are designed to deliver the performance and network optimization capabilities of Wi-Fi 6. They offer best-in-class range and coverage, enhancing throughput, reducing latency, decreased power consumption, and improved network reliability. Kits are available soon, so contact us for details.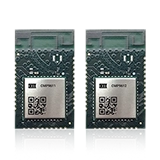 CMP961x Product Info
Our CMP9620 Wi-Fi 6 Module
For infrastructure and larger systems requiring the highest of performance, CEL offers the CMP9620 solution. This is a Concurrent Dual-Band 2x2 MU-MIMO solution, boasting 1.2Gbps PHY and 458Mbps PHY at 5Ghz and 2.4GHz respectively. With a PCIe interface and M.2 form-factor, this is highly geared towards SBC and more integrated solutions.

Also, coming soon is a new 4x4 MU-MIMO with 160MHz channel bandwidth.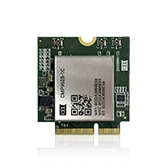 CMP961x Product Info
For those of you interested in development and integration, we provide an evaluation board, quick start guides, documentation, and driver build assistance. Feel free to contact us today to get started on your latest connectivity project!
Is Wi-Fi 6 worth it? 
When comparing Wi-Fi 5 vs Wi-Fi 6, it is clear that Wi-Fi 6 offers numerous advantages, including higher speeds, increased network capacity, better range, and lower latency. This makes Wi-Fi 6 an attractive option for those looking to upgrade their Wi-Fi access point or invest in the best mesh Wi-Fi 6 system.
Whether you're wondering if you need Wi-Fi 6, want to enable MU-MIMO, or are curious about the benefits of Wi-Fi 6, this blog post should provide some valuable insights. So, how do you know if you have Wi-Fi 6? Look at the specifications of your router or access point. If it supports 802.11ax, it's Wi-Fi 6.
From multiple access improvements to better throughput and reduced power consumption, Wi-Fi 6 technology, including its variation Wi-Fi 6E, presents a quantum leap from the previous Wi-Fi 5 (802.11ac) standard.